Collecting remote data for manufacturing
Red Lion provides products for collecting remote data for manufacturing with applications requiring protocol conversion, the Data Station Plus and the high-density Modular Controller help optimize your integration time and costs. providing local and remote monitoring and data collection.
---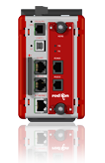 The Data Station Plus series from Red Lion is an industrial data collection and management device. The Data Station Plus offers protocol conversion, data logging and remote machine access with three built in serial ports and a 10/100Base-T(X) Ethernet port. The combination of more than 300 built-in protocols and several physical communication ports enables disparate devices to communicate seamlessly with one another. Learn more.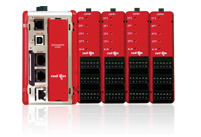 The Red Lion Modular Controller series features an easy method of integrating multi-zone PID control, data acquisition, and I/O into your PC, DCS or PLC control systems. Expanding functionality is simple by stacking up to 16 hot swappable slave modules together to collect data. The Modular Controller is available with features include protocol conversion, built-in web and FTP server. Learn more.
Mike Granby, President, Red Lion Controls talks about Industry 4.0
For more information
Contact Network specialists Ring UK today for professional advice about which system you should go for. We will assess your requirements and research and explain all the options available to you to help you or your client choose a perfect product that meets your needs.