Manufacturing is an integral part of today's economy. Factories around the world manufacture products for industries such as aerospace, automotive, electronics, food and beverage, packaging, plastics and more. While strategic practices such as Kaizen, Lean Manufacturing, Six Sigma, Total Quality Management and Continuous Improvement are used by many organizations to improve processes, technology is ultimately transforming the world of manufacturing.  Our industrial automation and networking solutions help manufacturers – both large and small – connect, monitor and control operations via products that include:
---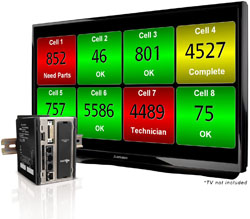 Red Lion's ProducTVity Station is a ready-to-deploy plant floor visual management system that displays real-time Key Performance Indicator (KPI) data and Andon messages on large televisions to drive efficiency. Using a built-in library of over 300 industrial protocols, the ProducTVity Station can connect to almost any plant floor equipment to help improve process improvement. Easily configured with Crimson® 3.0 software in just minutes, the ProducTVity Station can deliver unmatched visibility into process and equipment performance in manufacturing environments. Learn more.
---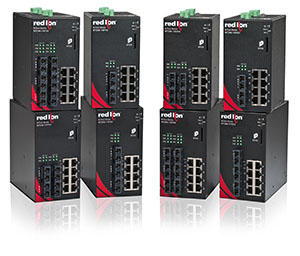 Red Lion's N-Tron® series NT24k® industrial managed Gigabit Ethernet switches offer a wide array of port configurations, media types and Power over Ethernet Plus (PoE+) models that include 10/100/1000 copper,  Fast Ethernet and Gigabit fiber options. With up to a -40° to 85°C operating temperature range, wide 10 to 49 VDC power inputs and 50g vibration and 200g shock tolerances, our rugged NT24k switches provide reliable network performance in industrial applications.
Learn more.
---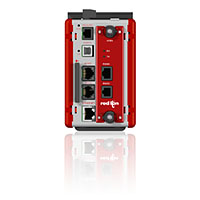 Designed to act as the factory floor hub for industrial data collection and management, Red Lion's Data Station Plus provides protocol conversion, data logging and remote machine access via a built-in web server. With three serial ports and one 10/100Base-T(X) Ethernet port, the Data Station Plus allows disparate devices to communicate seamlessly, regardless of manufacturer or cable connection. Easily configured with Crimson® 3.0 software, our protocol converter delivers unmatched visibility into process and equipment performance on any device, anywhere.  Learn More.
---
For more information
Contact Network specialists Ring UK today for professional advice about which system you should go for. We will assess your requirements and research and explain all the options available to you to help you or your client choose a perfect product that meets your needs.